hensem kan??haha (gatai)...tinggi,rmbut lurus, kurus, muka korean (muka korean,jepun, chinese looking aku layan)..haha
Name (romaji):
Tamaki Hiroshi
Profession:
Actor, singer and model (patut la tinggi,hensem...model pun dia..hehe)
Birthdate:
1980-Jan-14
Birthplace:
Nagoya, Aichi, Japan
Height:
180cm (tinggi nyer...I like!!)
Weight:
55kg
Star sign:
Capricorn
Blood type:
A
mamat ni aku kenal dlm certa Nodame (

chiaki-senpai

)..yg bercita2 nak jadi conductor (yg dok kat depan 2)..tp masalahnye dia ni fobia nak naik flight.haha..agak kelakar..wpun dia ni asyik pakai baju yg same je ..baju warna puteh...seluar hitam..tp sgt2 hensem...and SMART...aku mmg suke tgok laki smart...and laki ni perfectionist and pandai masak (lagikla suka...)
dia pun berlakon dlm certa (tajuk sori xigt)..tp certa 2 sgt sedih..korang jgn tgok..huhu..sbb pompuan 2 mati sbb suka kat dia..
tp nak certa sal certa Nodame je kat sini..OMG!!..betapa fanatik tgok certa ni sampai..download segala version muzik okestra beethoven la..segala bapak muzik2 klasik (yg xpernh minat pun..haha)..pastu aku ngan adik aku siap..main piano (version komp la)..adik aku muhaimin siap hafal lagu untuk tadika yg Nodame buat 2..boooooo...hahaha..
lawak tul Stresemann...konon org puteh r..tp muka gelap..ngan cara cakap pun laen skit..gatai puyer org tua..haha
Chiaki konon nak kontrol gelak
terbahak2 chiaki gelak stressmann cakap salah..haha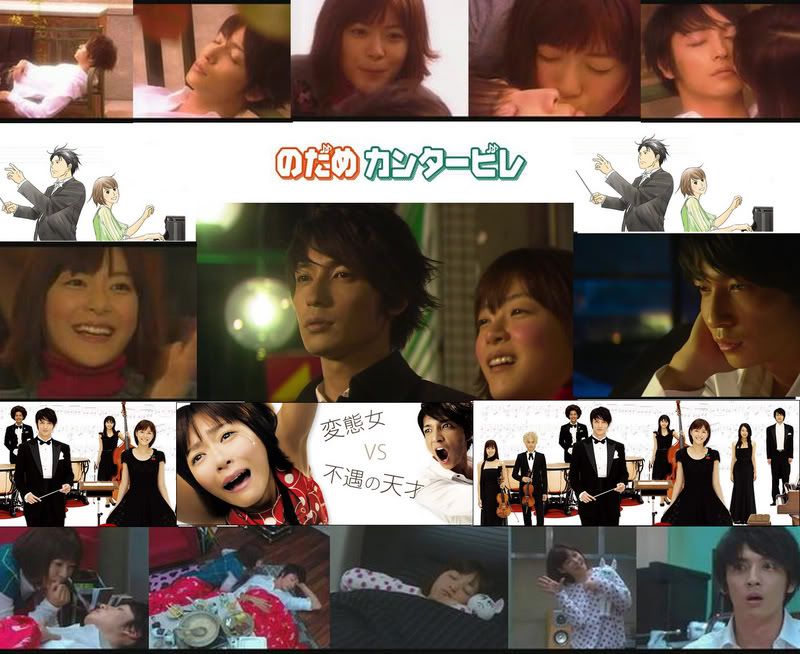 gmbr2 dlm certa Nodame Series..credit: atuk google
paling suka part chiaki g umah Nodame...hehe..yg kat tali air..hahaha..romantik gler tp pastu kantoi..lawak gler
ini serius...(nanyi cam wonder pets)..
camne aku leh miss sal certa NODAME ade 2nd movie..camne aku terlepas pandang sal certa besh ni..isk2...xleh percaya aku leh miss..1st movie aku dah tgok..ni suma salah Ivo..dia la kenalkan aku ngan Chiaki-senpai ni..Ivo (budak final year medic buat yg xknal)..dia mmg pemain muzik (yg aku tau dia pandai main biola..) and dia sorang yg FANATIK ngan jepun..siap elektif g jepun..cayalah!!..pastu dia minat lelaki2 jepun yg muka cam pompuan or lagik catik dr pompuan..barang2 kosmetik mmg beli dr sana...mmg fanatik ngan suma benda jepun..diala kenalkan ngan chiaki-senpai (mstlah aku trus jatuh cinta sbb laki hensem..haha)..
1st movie dah tgok...mmg certa tergantung (dorang kat Europe)
movie dah keluar bulan lps baru aku tau kewujudan Nodame The Movie 2..huhu (nsb baek Nodame Series ngan Movie 1..aku dah tgok)..
i love nodame cantabile, they're the most abusive and cute couple ever (hehe..ganas tp romantik..suke2..nak laki cam 2 leh??haha)
tau je la

certa jepun ade side effect yg agak melampau dlm certa2 dorang

(cam Hana Kimi)..sbb certa ni pun diadaptasi dr komik..so..kdg2 ade benda xleh diterima dek akal.,.hehe...leh main tampar2..keluar2 air liur..haha..leh tendang, baling2 org cam anak patung..haha
im just freaking happy right now because finally some news on the movie!!!!!!!!!!!!!!!!!!!!!!!! but
feel betrayed. I've found out so late!!!

Sinopsis Nodame The movie 2: Final Note

Chiaki Shinichi wins a composition contest and becomes an orchestra conductor. Chiaki then goes with Frank to observe the orchestra and is astonished by their poor performance. It seems due to lack of funding the orchestra lost many of its members. Meanwhile, Nodame prepares for a graduation exam at her music school. She is happy that Chiaki has finally become a conductor and becomes even more enthusiastic when Chiaki asks her to play "Bolero" with the orchestra.
p/s: dah bace manga Nodame,tgok certa nodame series..movie 1st dah tgok..so,2nd semestinye kena tgok!!!! br dpt tau ending (dgr cam dorang getting married!!!